The Lowdown on Retail Media Networks
Retail Media Networks are in the midst of a retail-aissance, but will it last?
by
David Glen
on
November 19, 2023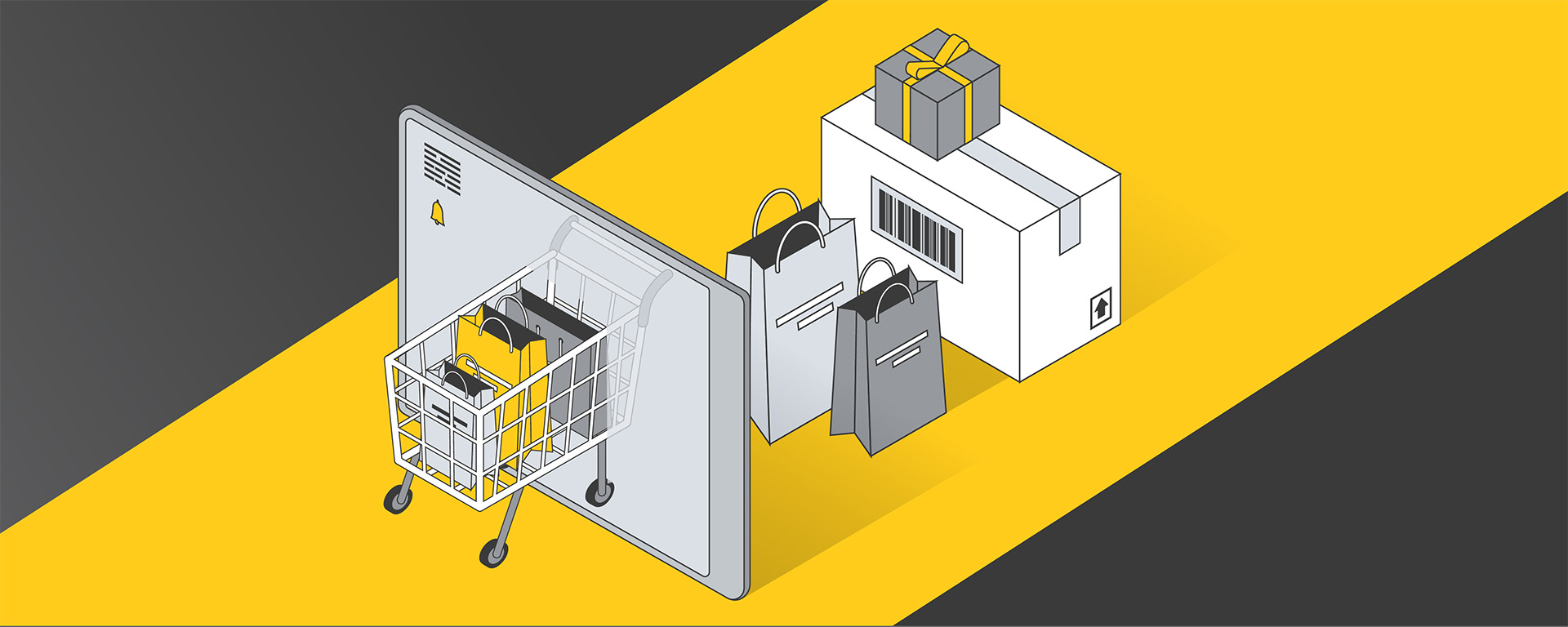 Considering the growing popularity of online shopping, it's no wonder that retail media networks (RMNs) have seen significant growth recently. In addition to new brands joining this trend, 73% of brands currently utilizing RMNs plan to invest more of their budgets in retail media this year (MarTech). 
According to Statista, an estimated $52 billion will be allocated to RMNs worldwide in 2023, while McKinsey is predicting that this figure will nearly double by 2026. To put that in perspective, retail media ad spend will account for almost one-fourth of all digital ad spend in the U.S. by that time. 
If your brand is involved with retail sales, you've likely considered incorporating retail media into your media mix model. But for those of you who are unfamiliar, here's a brief overview.
What are retail media networks?
A retail media network is a retailed-owned advertising service that allows marketers to purchase advertising space across all digital assets owned by that retail business. Essentially, brands buy ad space, which can appear as a "sponsored product" next to relevant product listings or as a banner placement within search results. While this may seem like any other media property, there are some key reasons why RMNs have a leg up on traditional ad networks.
The advantages of RMNs
Data – In an ever-evolving cookie-less world, being able to leverage a retailer's first-party shopper data is becoming more important than ever. RMN data consolidation is also expanding as networks have begun partnering with social media companies, streaming platforms, and publishers in order to reach consumers early in the buying cycle. (eMarketer)

Audience – When shoppers visit these sites, they are already intending to make a purchase, presenting the perfect opportunity to provide them with relevant purchase messaging. In fact, 38% of RMN shoppers are likely to purchase products via contextually relevant ads. (IAS)

Insights – Understanding customer behavior, purchase history, demographics, and preferences provides invaluable insights, which can help shape broader marketing strategies.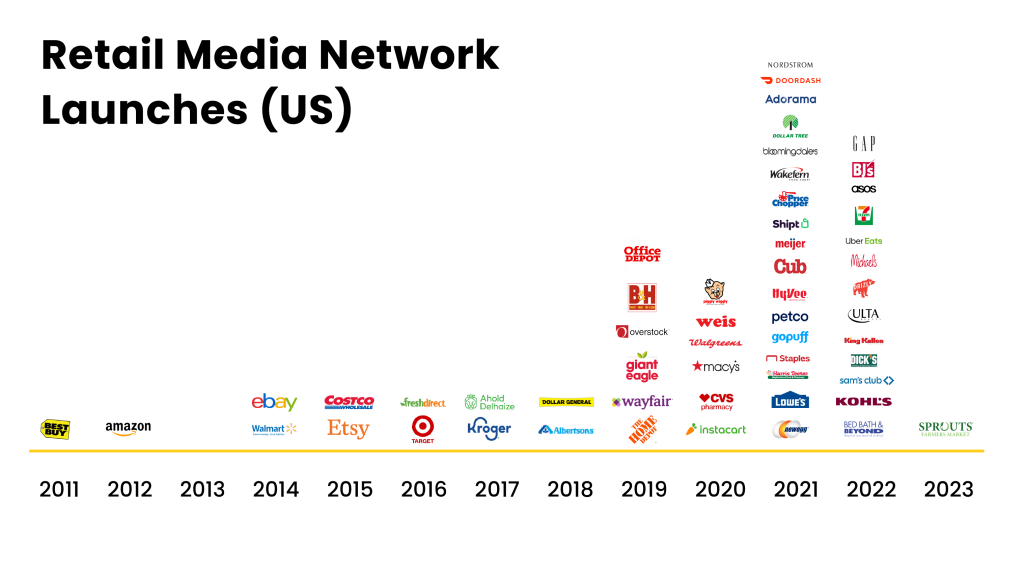 Who are the RMN players?
As you can see from the chart above, there has been a surge in companies launching their own RMNs over the past few years. Notice the variety of industries represented – these are not your typical retail companies. Companies as diverse as 7/11, UberEATS, Michaels, and even the beloved supermarket chain Piggly Wiggly are getting in on the action. 
As you can see, Amazon was not the first to launch their own RMN. However, it has the most extensive network by far. This year, the company is set to capture 75.2% of U.S. retail media advertising, surpassing the runner-up, Walmart, by more than 10x (eMarketer). It's safe to say Amazon's number-one position in retail ad spend will remain unchallenged for the foreseeable future.
With so many retailers launching their own networks, determining which one(s) to partner with can be a challenge. After learning about the rapid growth of RMNs, and the numerous benefits associated with them, you might be tempted to think that no matter which one you choose, it will elevate your marketing efforts. But don't revise your media plan just yet.
The challenges of RMNs
Competition – With a growing number of brands vying for ad space on RMNs, and ad spend projecting to exceed linear TV, securing premium inventory is a common issue for almost half of all RMN marketers. (Liveintent)
Complexity – To meet increasing demand, numerous retailers have launched their own networks, while existing ones have scaled up their operations–but not without cutting corners. 69% of RMN advertisers say that resolving the complex buying process is a major challenge, due to insufficient sales reporting, underdeveloped infrastructure, and lack of standardized measurement across different RMNs. (marketing charts)
Oversaturation – Once RMNs have solved the challenges of competition and complexity, and advertisers have achieved harmony with retailers, how will consumers respond? Some argue that consumers might be overwhelmed by the abundance of choices.
Will consumers feel inundated by targeted ads, leading them to shy away from the platform? Only time will tell. Psychologist Barry Schwartz sums up this potential issue best: "The fact that some choice is good doesn't necessarily mean that more choice is better."
Final thoughts
Retail media is considered the third wave of digital advertising, following in the footsteps of search and social. Built on critical first-party data and contextually relevant ad experiences, retail media has been shown to increase ROI at a time when companies are pressured to hit bottom-line goals.
But while the benefits of RMNs are truly unparalleled when compared to other networks, you have to first understand the environment, the players (general, niche, and connected), and most importantly, how your marketing objectives can be achieved on these platforms. Another important thing to consider: Effectively launching and managing RMN campaigns will likely require additional time and staffing.
Despite these challenges, if you believe RMNs can bring success to your marketing plan, there is no better time to dive in than right now.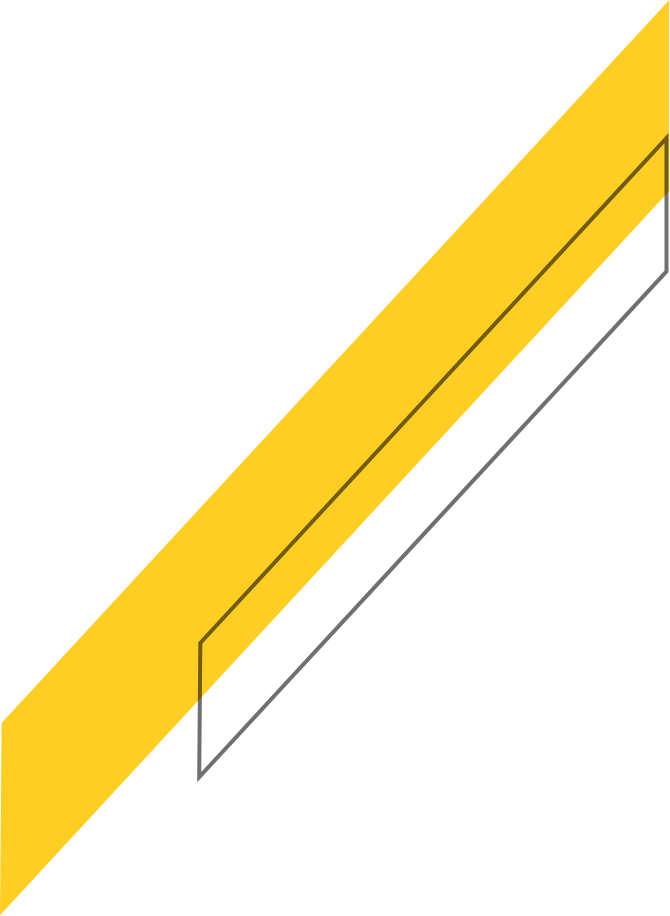 Subscribe for
more Slant
Drop your e-mail below to get news, updates & blog posts.